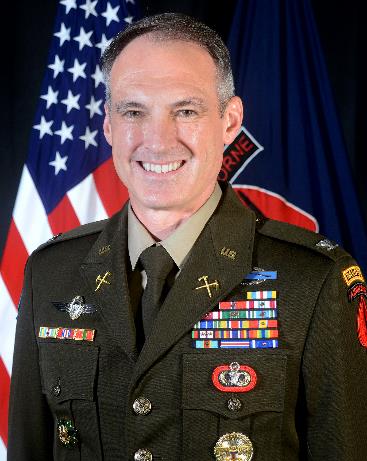 COL Keith Pritchard
Deputy Commander, Special Operations Command, NORTH
Bio
COL Keith Pritchard was raised in Salem, Oregon, and commissioned as a 2LT in the Infantry following graduation from St. John's University (MN).
His previous assignments include Infantry Platoon Leader, Infantry Company XO, Infantry Scout Platoon Leader, Infantry Battalion AS3, Infantry Company Commander, Infantry Battalion S2, Infantry Brigade S2, Director of Counterintelligence, and G-3 Training Division Chief to U.S. Army Special Operations Command (USASOC).

In 2005, COL Pritchard led CAT-A 221 as Team Leader on operational tours in 2005 to Indonesia in support of Special Operations Command Pacific (SOCPAC), followed by a Combined Joint Special Operations Task Force-Afghanistan (CJSOTF-A) combat tour in 2006 with 7th Special Forces Group. In 2007, COL Pritchard commanded D/97 CAB (A) conducting CJSOTF-A combat tours again with 7th SFG (A), and then with 3rd SFG (A). In 2008 COL Pritchard served as Division Chief for J3, Special Operations Command Europe (SOCEUR), returning to Afghanistan in 2010 as the Director of Operations for the ISAF Special Operations Forces Fusion Cell (SOF-FC).

In 2011, COL Pritchard commanded Army Forces Battalion, Joint Task Force - BRAVO (JTF-B) forward deployed to Honduras. Following Battalion Command, he served in the Pentagon for the Army G-3/5/7 Special Operations Division (G3 SOD) as the Army SOF Command Manager from 2012-2014, followed by Senior Service College, graduating in 2015. COL Pritchard returned to the Pentagon from 2015-2018, serving for the Secretary of Defense as Director of Afghanistan Policy and Strategy in the Office of the Secretary of Defense for Policy (OSD(P)) – Afghanistan, Pakistan and Central Asia (APC) Directorate. COL Pritchard departed the Pentagon in 2018, returning to U.S. Army Special Operations Command where he served as Director, G-5 for Strategy, Policy, Plans and Strategic Communications from 2018-2021. In 2021, he departed USASOC for Special Operations Command North (SOCNORTH) where he served as Director, J5 for Strategy, Policy and Plans. COL Pritchard transitioned again in 2022 and currently serves as Deputy Commander for SOCNORTH.

COL Pritchard's awards and decorations include the Defense Superior Service Medal, Legion of Merit, Bronze Star (OLC), Valorous Unit Award, Combat Infantryman Badge, Expert Infantryman Badge, Master Parachutist Badge, Ranger Tab, Office of the Secretary of Defense Staff Identification Badge, Army Staff Identification Badge, and is authorized to wear German Master Parachutist Wings (Gold), Honduran Master Parachutist Wings, and Romanian Parachutist Wings.

COL Pritchard holds a Bachelor of Arts in German Studies with a concentration in Mandarin Chinese from St. John's University (MN), and a Masters of Science in National Security & Resourcing Strategy with a concentration in Long Term Strategy from the National Defense University, Eisenhower School.
He has been married to the former Melissa Ampe of Anoka, Minnesota for 29 years. They have two children; Kaileen Marie (26) who works for Palantir Technologies in Palo Alto, CA, and Connor John (24) who is a 2LT in Army Aviation stationed at Ft. Rucker, AL.