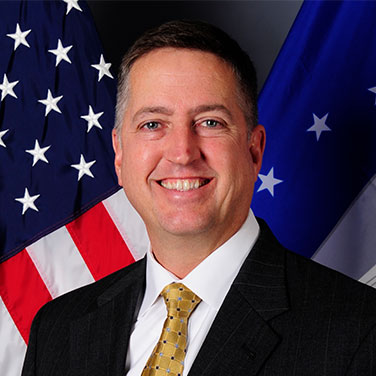 James Smith
Acquisition Executive, USSOCOM
Bio
Mr. James H. Smith is currently the Acquisition Executive and Senior Procurement Executive for U.S. Special Operations Command (USSOCOM), MacDill AFB, Florida, with responsibility for all Special Operations Forces (SOF) research, development, acquisition, procurement, and logistics programs as well as management of the SOF Acquisition, Technology, and Logistics (SOF AT&L) Workforce Enterprise.
Mr. Smith, a native of Lyndhurst, New Jersey, graduated from the U.S. Military Academy in 1986 and was commissioned as a Second Lieutenant of Infantry. He served initially with the 3d Infantry Division in Kitzingen, Germany, as Bradley Platoon Leader, Heavy Mortar Platoon Leader, and Company Executive Officer. He then served as the 2d Brigade's Assistant Operations Officer and Rifle Company Commander in 5th Battalion, 21st Infantry Regiment of the 7th Infantry Division (Light). Following receipt of a Master of Science in 1995, he served as Associate Professor in the Department of Civil and Mechanical Engineering and as Battalion Executive Officer of 1st Battalion, 1st Infantry Regiment at the U.S. Military Academy.
His acquisition assignments include Chief, Firepower Division, Combat Developments Directorate, U.S. Army Infantry Center; Assistant Product Manager, Soldier Power; Deputy Technology Product Manager, Objective Force Warrior; Chief, Interoperability, HQ Department of the Army G8; Product Manager, Soldier Sensors and Lasers, Program Executive Office Soldier; and Program Executive Officer, Special Operations Forces Warrior Systems, followed by Military Deputy to the USSOCOM Acquisition Executive. Mr. Smith retired from active military duty on 31 October 2013 after 27 years of service. Immediately upon his military retirement, he was appointed to the Senior Executive Service and selected to serve as the Deputy Director for Acquisition, SOF AT&L, HQ USSOCOM, the position he held just prior to his current role as Acquisition Executive.
In 1986, Mr. Smith earned a Bachelor of Science degree in Civil Engineering from the U.S. Military Academy. He subsequently earned a Master of Science degree in Mechanical Engineering from Stanford University in 1995 and a Master of Science degree in Strategic Studies from the U.S. Army War College in 2009.