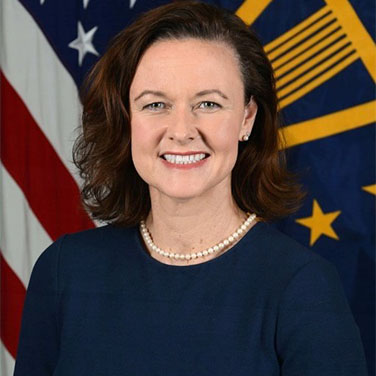 Stacy Cummings
Under Secretary of Defense, Acquisition & Sustainment (Performing the Duties of)
Bio
Ms. Stacy Cummings is a career member of the Senior Executive Service, and is currently performing the duties of the Under Secretary of Defense for Acquisition and Sustainment (USD(A&S)). In this position, she is responsible to the Secretary of Defense for all matters pertaining to acquisition; developmental testing; contract administration; logistics and materiel readiness; installations and environment; operational energy; chemical, biological, and nuclear weapons; the acquisition workforce; and the defense industrial base.
Prior to this temporary role, she served as the Principal Deputy Assistant Secretary of Defense for Acquisition (PDASD(A)). In this position, she advised the Assistant Secretary of Defense for Acquisition (ASD(A)) on matters relating to the Department of Defense Acquisition System while advancing innovative, data-driven approaches across the acquisition enterprise.
Previously serving as the Program Executive Officer, Defense Healthcare Management Systems (PEO DHMS), Ms. Cummings managed the delivery of healthcare and advance data sharing through a modernized electronic health record for service members, veterans, and their families.
Ms. Cummings previously held senior executive positions at the Department of Transportation, where she established strategic direction, provided executive leadership, and managed daily operations as the Executive Director for the Federal Railroad Administration and the interim Executive Director for the Pipeline and Hazardous Material Safety Administration.
Beginning her career with the Department of the Navy, she held senior positions at the Naval Air Technical Data and Engineering Services Command; Commander, Fleet Readiness Centers; Program Executive Office for Command, Control, Communications, Computers and Intelligence; and the Space and Naval Warfare Systems Command.
Ms. Cummings holds a Master of Science in National Resource Strategy from the Industrial College of the Armed Forces and a Master of Science in Management/Information Systems from the Florida Institute of Technology. She received her Bachelor of Science in Business Logistics from the Pennsylvania State University.
Certified in both Program Management and Acquisition Logistics, Ms. Cummings is a graduate of the Naval Air Systems Command's Senior Executive Management Development Program and the Defense Senior Leader Development Program. Ms. Cummings received Meritorious and Superior Civilian Service Awards from the Department of the United States Navy, Meritorious Public Service Award from the United States Coast Guard, and the Office of the Secretary of Defense Medal for Exceptional Civilian Service.