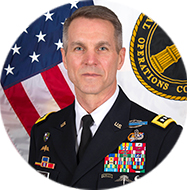 Bio
General Richard D. Clarke was born in Germany and raised in an Army family. He was commissioned Infantry in 1984 upon graduation from the United States Military Academy. He earned a Master of Business Administration from Benedictine College. He is a distinguished graduate of the National War College earning a master's degree in Security and Strategic Studies.
General Clarke has led Soldiers at all levels in Airborne, Ranger, Mechanized, and Light Infantry units in five different Army Divisions, the 173rd Airborne Brigade, and the 75th Ranger Regiment in the United States, Europe, Iraq, and Afghanistan. General Clarke spent eight years in the 75th Ranger Regiment commanding at all levels from Company through Regiment. He also served as commander of 3rd Battalion, 504th Parachute Infantry Regiment, 82nd Airborne Division.
His most recent assignments include serving as the Director of Operations, Joint Special Operations Command; Deputy Commanding General for Operations, 10th Mountain Division; the 74th Commandant of Cadets, United States Military Academy at West Point; Commander of the 82nd Airborne Division; and J5 Director for Strategy, Plans, and Policy, Joint Staff, Pentagon, Washington.
General Clarke's deployments while serving in the aforementioned positions include Operations Desert Shield and Desert Storm, Operation Joint Guardian in Macedonia, three deployments in support of Operation Enduring Freedom, four deployments in support of Operation Iraqi Freedom, and one deployment as the commander of the Combined Joint Forces Land Component Command - Operation Inherent Resolve.
General Clarke is married to the former Suzanne Key Stovall, from Beaufort, South Carolina. They met in West Berlin, Germany, while attending High School. They have two children, Madeleine, a Junior at Tufts University and Will, a high school Senior, who will attend Northeastern University next year.