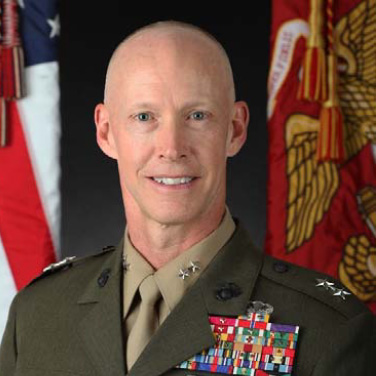 MajGen James Glynn, USMC
Commander, Marine Forces Special Operations Command
Bio
Major General Glynn assumed command of Marine Forces Special Operations Command (MARSOC) on 26 June 2020. His previous assignment was the Commanding General of Marine Corps Recruit Depot Parris Island and Eastern Recruiting Region. A native of Albany, New York, his service as a Marine began in 1989 after graduating from the U.S. Naval Academy with a Bachelor of Science Degree in Mechanical Engineering.

His initial assignment was with 3rd Battalion, 3rd Marine Regiment, in Hawaii where he served as a rifle platoon commander throughout Operations Desert Shield/Desert Storm and later as the Mortar Platoon Commander. He has served in a variety of command and staff billets at: Marine Barracks 8th & I, Washington, DC; 1st Battalion, 4th Marine Regiment, Camp Pendleton, California; Marine Corps Recruiting Station, San Antonio, Texas; I Marine Expeditionary Force, 2nd Battalion, 4th Marine Regiment, Camp Pendleton, California and Marine Corps Forces Special Operations Command's (MARSOC) Special Operations School, Camp Lejeune, NC.

More recently, MajGen Glynn served as the Deputy Commanding General of Special Operations Joint Task Force, Operation Inherent Resolve (Forward). Previously, he served at Headquarters Marine Corps (HQMC)—first as the Military Assistant to the Assistant Commandant of the Marine Corps, and then as the Director of the Office of U.S. Marine Corps Communication.

Major General Glynn is a graduate of Harvard Business School's Advanced Management Program and earned a Master of Science Degree in National Security Affairs from the U.S. Army War College, a Master of Science Degree in Military Studies from the Marine Corps Command and Staff College and is a graduate of the Marine Corps Amphibious Warfare School.