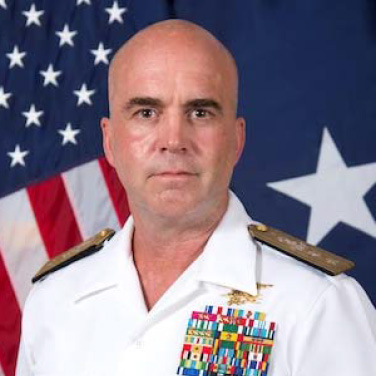 RADM Hugh Howard, USN
Commander, Naval Special Operations Command
Bio
Rear Adm. Hugh Wyman Howard III is a native of Alexandria, Virginia and he is a proud T.C. Williams High School alumnus. He is a fourth generation Naval Officer and a 1990 graduate of the U.S. Naval Academy with a Bachelor of Science in International Relations where he was a member of the Navy crew team.
He holds a Master of Science in National Security and Resource Strategy with a focus on space from the Eisenhower School, where he earned three Commandant's awards for excellence in writing; a Master of Business Administration from the TRIUM consortium of the London School of Economics, HEC Paris School of Management, and New York University's Stern School of Business; and a Professional Certificate in Artificial Intelligence and Business Strategy from the Massachusetts Institute of Technology. His professional military education also includes the Naval War College, Joint Special Operations University, and the Defense Language Institute.
He is a SEAL officer (SEAL assessment & selection BUD/S Class 172) who assumed command of Naval Special Warfare Command on 11 September 2020. He previously commanded Special Operations Command Central leading joint special operations forces across the Central Region, following service as assistant commander, Joint Special Operations Command.
He has commanded at all levels of Special Operations, including service as commanding officer of Naval Special Warfare Development Group from 2011-2013. He has multiple tours in command of Joint Task Forces, and was among the first to deploy into Afghanistan following the attacks of September 11, 2001,
deploying consistently since.
His joint, interagency and policy staff experience includes service as director of operations for the National Geospatial-Intelligence Agency; deputy director for Global Operations, Office of the Chairman of the Joint Chief of Staff; and director for Counterterrorism Policy in the Office of the Secretary of Defense.
The combat contributions of the teams he commanded, and with whom he served, were recognized with five Presidential Unit Citations and four Joint Meritorious Unit Awards. He is an active volunteer within the community, a member of the Council on Foreign Relations, and an Eagle Scout.