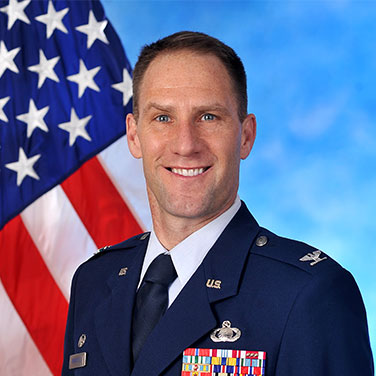 Col Eric Obergfell, USAF
Director of Procurement, USSOCOM
Bio
Eric is the Director of Procurement for United States Special Operations Command. His team is focused on delivering contract solutions at the speed of relevance to special operators worldwide.
He has commanded at Wright Patterson AFB as well as Joint Base's Lackland and Andrews where he enabled contract field teams, basic military training, cyber operations, facilities maintenance and flight operations for F-16s, C-5s, KC- 135s, UH-1s and Special Air Missions to include Air Force One.
His deployments include Defense Contract Management Agency (DCMA) Staff Officer at Camp Victory, Iraq, for Operation Iraqi Freedom; DCMA Administrative Contracting Officer (ACO) for JTF 510/J4 in Zamboanga, Philippines for Operation Enduring Freedom and Detachment 1 Chief of Staff for Operation DEEP FREEZE at McMurdo Station, Antarctica.