Ignite!

A new exhibitor pavilion at SOFIC, Ignite! will feature 20 small businesses showcasing innovative products and services for the SOF community. Be sure to visit the Ignite pavilion, booth #1236, located in the Exhibit Hall at the Tampa Convention Center. Read more here.
Disrupter Event & Networking
On May 20 – 22, USSOCOM, in collaboration with SOFWERX, will host the "Disrupter Event", a multi-phased, competitive acquisition process focused on showcasing the latest, most disruptive and transformational technologies/capabilities for Government Stakeholders to rapidly evaluate and acquire effective solutions relevant to the specific Technology Focus Areas (TFAs). Selected companies will be allotted a one-on-one session with the USSOCOM TFA evaluation panel to pitch, demonstrate, and discuss their solutions. Read more here.
SOFlanding
Join us at the new and improved outdoor space, SOFlanding. Located across from the Franklin Street entrance of the Tampa Convention Center, exhibitors will display their most durable products for the SOF community. You can find these companies in the SOFIC Show Guide onsite, under the Exhibitor List by searching for those booth numbers that start with a "P." While visiting SOFlanding, stop by for lunch at one of the local Tampa Bay food trucks. Read more here.
Meet in the Bunkers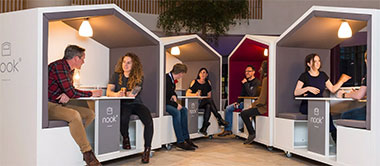 Looking for a private meeting area? Available to all attendees, the meeting "Bunkers" will offer an area to have discussions away from the busy networking areas. The Bunkers are available on a first-come, first served basis and are located at the Tampa Convention Center on the 1st floor between Meeting Rooms 4 and 5.
Operation SOFtalk
Back by popular demand, NDIA will be hosting Operation SOFtalk on Wednesday, May 22 from 6:00 – 9:00 pm. This year the event will be held at a new location, the Florida Aquarium. This is the perfect opportunity to network with fellow attendees and meet with USSOCOM senior leaders while enjoying margaritas and a Jimmy Buffet cover band. Don't miss the special events which include a chance to tour the Victory Ship, and animal attractions including the sting ray exhibit and penguin encounter. Casual attire is encouraged! Read more here.