6th Annual Industry Gives Back Raffle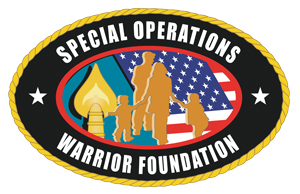 The drawing will be held on Thursday, May 23. You do not need to be present to win. A check with proceeds from the raffle will be presented to the Special Operations Warrior Foundation on Thursday, May 23 at the general session at the Tampa Convention Center.
Raffle tickets are $20/ticket and can be purchased through the SOFIC registration website at www.sofic.org/registration and onsite at the registration counters.
All proceeds from the raffle will benefit the Special Operations Warrior Foundation.
Prizes Include:
HEL-STAR 6 Helmet Mounted Strobe by Core Survival - Winner: Devin Standard
2016 President Humidor by Ameripack - Winner: Thomas Stauber
Swag Bag by Glock - Winner: William Owen
Big Game Hunter Package by Otis Technology - Winner: Meg Harper
Crossfire binoculars and swag bag by Vortex Optics - Winner: Bobby Boatwright
Gun Safe Gift Certificate by ITility - Winner: Jayme Canton
Bushnell Elite Scope by Tri Star - Winner: Charles Minton
Personal Weapons Transport Case by Cases2Go - Winner: Jacoby Baker
Optima Battery by Military Battery Systems - Winner: Theresa Thompson
XPC Cooling Vest by First Line Tech - Winner: Jonathan Sonnier
Power Bank Portable Charger by Acumentrics - Winner: Surendra Babu Parvataneni
TACOPS M-10 Medical Backpack by TSSi - Winner: Jim Kotlyn
1535 Pelican Carry On Case by Pelican - Winner: Ryan McNeill
Two (2) Trilobyte Tactical Beacons by Adventure Tactical - Winner: Kurt Westerman
Is your company interested in being a part of the Industry Gives Back Raffle? To donate a prize or make a financial donation, please contact Trish Parent at tricia.parent@itility.com.

Raffle Sponsored By: