ISOF is a way for the global SOF community to meet, learn from each other, and advance a coordinated effort to meet global security challenges.

Be sure to visit IGNITE located on the 4th floor in the Tampa Bay Ballroom at the JW Marriott. More information will be provided soon.

Join us at the new and expanded outdoor space, SOFlanding. Located across from the Franklin Street entrance of the Tampa Convention Center, exhibitors will display their most durable products for the SOF community. While visiting SOFlanding, stop by for lunch at one of the local Tampa Bay food trucks.
SOFSail
SOFsail is located next to the Sail Pavilion, just outside the Channel Street entrance of the Tampa Convention Center. SOFsail is where you will find light weight yet durable outdoor displays.
CAPE DEMO
The 2022 International Special Operations Forces (ISOF) Week Capabilities Demonstration (CAPE DEMO) will take place during SOFIC; don't miss this exciting 30-minute demonstration with Joint U.S. and Partner national Special Operations Forces who will display their partnership and interoperable tactical capabilities.
USSOCOM Awards Gala
The USSOCOM Awards Gala will take place on Wednesday, May 18, 2022, at the Tampa Marriott Water Street. Tickets will include access to both the reception that starts at 6:00 pm and the gala dinner that follows at 7:00 pm. Ticket sales will close on Wednesday, May 4; all ticket sales are non-refundable. More information will be provided soon.
Meet in the Bunkers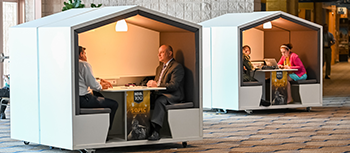 Looking for a private meeting area? Available to all attendees, the meeting "Bunkers" will offer an area to have discussions away from the busy networking areas. The Bunkers are available on a first-come, first served basis and are located at the Tampa Convention Center on the 1st floor.